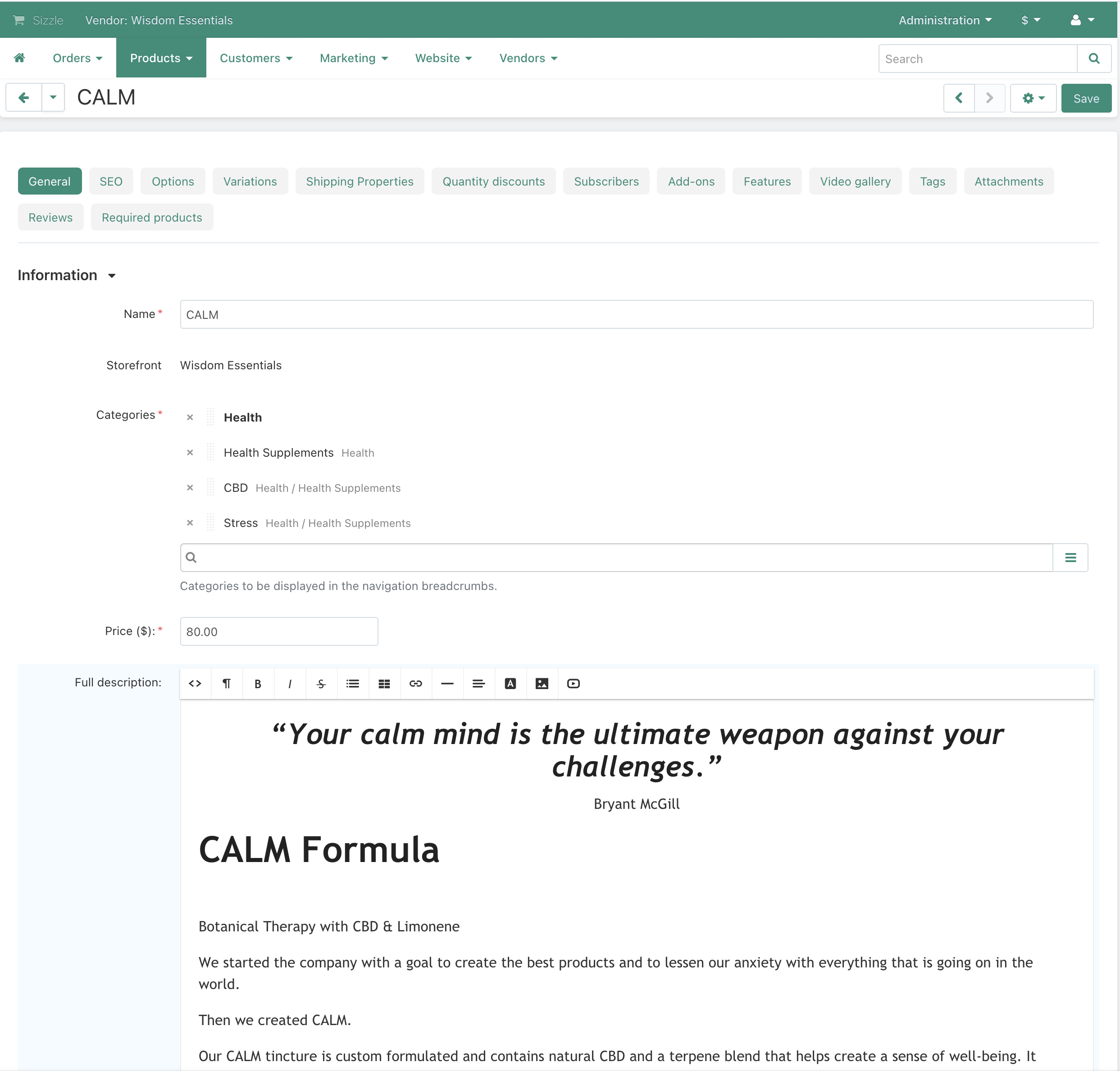 Your Enterprise account comes complete with a Sizzle Store in the Sizzle Marketplace. Separate from the Sizzle Offer Engine, your Sizzle Store is available for you to build out your storefront, populate your content, then utilize the Sizzle Offer Engine to drive traffic to your storefront and promote your merchandise.
Learn how to set up your Sizzle Store
Below are just a few of the things you can do from the Sizzle Store.
Keep track of your inventory and update your listings
Download custom business reports
Use customer metrics tools to monitor your Merchant performance
Contact the Merchant Support and open help tickets using the case log
Keep track of your daily sales for all the products you sell in Sizzle
A product detail page is where customers view a product sold on Sizzle.
It's where customers can find all the relevant information about a particular item.
When multiple sellers offer the same product, Sizzle combines data from all the offers into one product detail page (so we can present customers with the best experience). You can propose product information on a product detail page, along with other sellers and manufacturers, and request detail page reviews if you think the information is not correct.
As you're building your product detail pages, try to think about what will best help customers find your products, discover answers to their questions, and make a purchasing decision. Aim for the ultimate customer experience by making your listings concise, accurate, and easy to understand.
Title 200 characters max, capitalize the first letter of every word
Images 500 x 500 or 1,000 x 1,000 pixels to increase listing quality
Variations Such as different colors, scents, or sizes
Bullet points Short, descriptive sentences highlighting key features and benefits
Featured offer ("Buy Box") The featured offer on a detail page. Customers can add to their cart or "Buy Now"
Other offers The same product sold by multiple sellers offering a different price, shipping options, etc.
Description Keywords improve the chances that people will find your listing
Fulfillment of your orders
Merchant-fulfilled just means you store and ship products directly to customers yourself. Sizzle charges shipping rates based on the product category and shipping service selected by the customer, per your input, then passes the amount on to you.
You've made your first sale. What's next?
Your first sale is a big milestone—but it's just the beginning of your growth opportunities selling on Sizzle. Once your store is up and running, there are a few important things to keep in mind.
Performance metrics (and why they matter)
Sizzle Merchants operate at a high standard so we can provide a seamless, delightful shopping experience. We call it being customer-obsessed, and as an Sizzle Merchant it means keeping an eye on these key metrics:
Order defect rate (a measure of a Merchant's customer service standards): < 1%
Pre-fulfillment cancel rate (initiated by the Merchant before shipment): < 2.5%
Late shipment rate (orders that ship after the expected date): < 4%
You can keep tabs on your performance and make sure you're meeting your targets in Sizzle Dashboard.
Customer Reviews
Customer product reviews are an integral part of the shopping experience on Sizzle, and they benefit both customers and sellers. Make sure you're familiar with the right way and wrong way to get more product reviews and avoid policy violations.
Opportunities for business growth
Next steps…
The moment you're selling on Sizzle is the moment you can start growing your Sizzle business. Once you've launched your business, Sizzle has tools in place to help you take your business to the next level (or the next couple of levels).
Promotion
Sizzle provides you with a massive selection of promotional tools, designed for custom implementation into hundreds of unique business models. Use our intuitive tools to help you find the perfect promotional products that Sizzle can provide you to step up the growth of your company.
What makes a great Merchant?
A checklist for growth. Opportunities for growth are all around you—but here are a few things to try in your first 90 days as a Sizzle Merchant.
Keep an eye on your account health in Seller Central
Use Fulfillment by Amazon or Seller Fulfilled Prime
Advertise your listings or offer deals and coupons
Enroll in Brand Registry and create enhanced brand content
Expand your selection by listing more products
Use the Automate Pricing Tool in Seller Central
Your first 90 days
The first three months after you launch your Sizzle promotions are an important time for establishing practices that will boost your performance from there on out.
Start selling today
Put your products in the Sizzle marketplace so that our Users may discover them in the days and months ahead.